USB Explorer 200 (USB 2.0)
Quick Links
Related Products

USB Explorer 200 - Feature Tour
Search
The search view offers four modes
It is possible to search for USB transactions, endpoints data, Setup requests or columns strings.
Search for transactions help to easily find transactions using the following criteria: USB token, handshake and destination
This example shows a search of all OUT transactions NAKed on the device 2.
It is also possible to search for data in a hexadecimal or literal form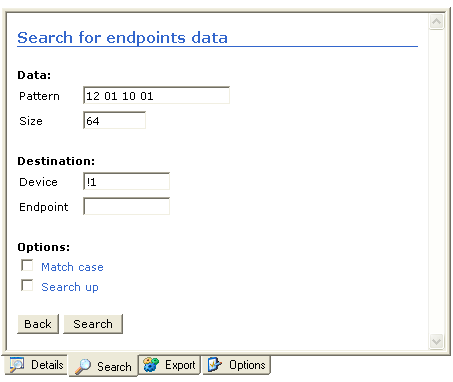 This example shows a search for the hexadecimal pattern '12 01 10 01' in all data packets containing 64 bytes that was not addressed to device 1.
The Setup requests search function enables the specification of powerful search criteria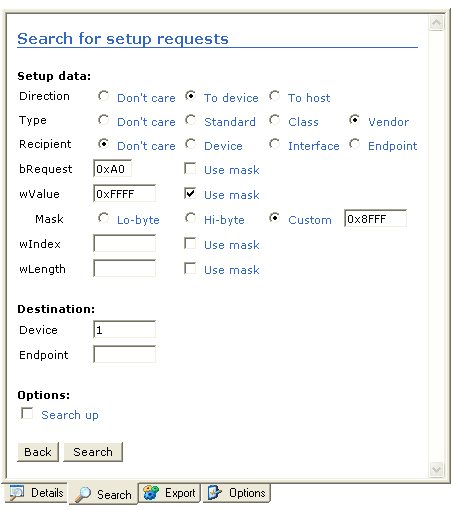 This example shows a search for 0xA0 Setup requests of type vendor in direction of the device. In addition, the wValue field must match the mask 0x8FFF.
Searching by columns enables criteria to be specified in the same way as instant filters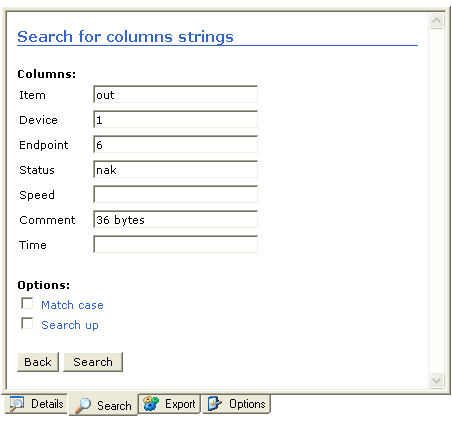 This example shows a search for all NAKed OUT transactions on the enpoint 6 of device 1 containing 36 bytes of data.